Adaptive lessons focus on learning to play specific instruments rather than growing skills in communication, sustained attention, social engagement or other therapeutic goals. Candidates for adaptive lessons should be able to stay focused on visual instruction for at least 10 minutes and have the minimum ability to follow two-step directions.
An assessment will be required to find the right placement, and if students show sufficient sustained attention and are able to follow directions, then they may be ready for adaptive music lessons. If not, we usually suggest starting with music therapy to help them develop the focused attention they will need for some type of music instruction. In some cases a music therapist would be needed to evaluate a student's readiness.
In addition to music therapists, we have several patient and creative music teachers who love using their skills and experience to work with children who have various types of special needs.
Below are answers to the most frequently asked questions about adaptive lessons versus music therapy.
Answers to other Frequently Asked Questions
Q.
What is the difference between music therapy and music instruction?

A. This is a great question! The primary difference is in the goals of each:

The goals of Music Therapy are primarily therapeutic: That is, to help the child in whatever physical, cognitive or emotional areas of concern can be identified and addressed. Learning music may be an ancillary benefit but never the primary goal of Music Therapy. NOTE: Although any therapy requires varying degrees of effort for the client, the highly sensory and pervasive impact of music makes it a more engaging and useful tool, particularly for those who are already responsive to music. This is why we call it the FUN therapy.

The goals of Music Instruction are primarily educational: At The Music Place, music instruction for kids with special needs is called Adaptive Teaching. The goal of coaching/music instruction is to teach those with special needs to sing or play an instrument. This is offered at the child's own pace by music educators who are experienced, flexible and patient with those who have special needs. In these cases, the ancillary benefits but not the goal, are therapeutic.
Q. What is the difference between Adaptive Music Teachers and Music Therapists?
A. The primary difference is in their education:
Music Therapists are vocal and/or instrumental musicians who may be equipped to teach music, but who are specifically trained and Board Certified (MT-BC) to use music-based interventions to work with clients of all ages (neo-natal to geriatric) who experience one or several of a broad spectrum of impairments. These may include but are not limited to physical (i.e. CP; MS), emotional (i.e., depression; PTSD) or cognitive/mental (i.e., autism; Alzheimer's) disorders.
Adaptive Music Teachers are musicians who are trained to teach music, but who, because of their unusual patience, creativity and experience find delight working with high-functioning children and adults who have special needs. Although many of these instructors have studied special needs populations and how to serve them, they are not Board Certified therapists. The tuition for Adaptive Music teachers is less than that of a therapist.
Q. How will I know if my child can be served by an Adaptive Music Teacher?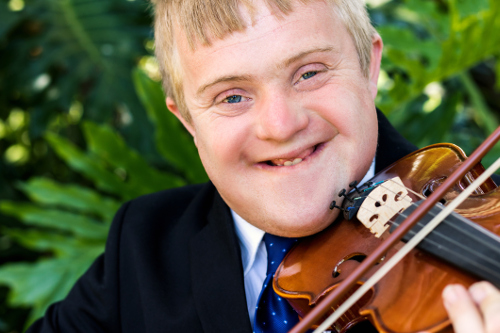 A. The best way to determine your child's placement is to have an assessment of some kind.
FREE ASSESSMENT: If your child is high functioning, verbal, interactive and responsive, an Educational Specialist may be able to assess the suitability of adaptive teaching for your child through a free assessment. The E.S. will help you determine one of the following options:
Set up a paid trial lesson with an adaptive teacher and follow up to determine the suitability of the specific adaptive teacher and/or music learning
Refer you to the Music Therapy department
THERAPEUTIC ASSESSMENT: If your child is less verbal, responsive or interactive, then a paid session with Music Therapist will help determine if your child is ready for a Group or Private Music Therapy . NOTE: Because we keep our groups so small, we can create groups with as few as two clients. Group music therapy is only an option for clients who have been determined to fit in a particular group.
Q. What are the guidelines to determine if a student should be enrolled in adaptive lessons versus non-adaptive instruction?
A. Students are typically enrolled in adaptive lessons if one or more of the following statements are true:
They are not fully mainstreamed.
They have an IEP.
They require an aide in the regular school.
Q. What are some examples of the difference between music therapy and music instruction?
A. Here are some examples:
ADAPTIVE TEACHING: A high-functioning child may develop stronger fine motor skills or better attention as a result of learning to play the piano, but this would be considered an ancillary or secondary benefit while pursuing the educational goal of playing the piano.
THERAPY: Singing and/or echoing may be a tool used to help develop speech skills, but it is not a voice lesson. In the same vein, playing the flute may be a tool to help develop lung capacity, but in therapy the focus will be on overcoming the physical impairment not on learning to play the instrument. Music learning is a tool but not the goal: a therapist who can use flute to help a client is not necessarily (and rarely is) a trained flautist.
Q. Can anyone from a special needs population work effectively with an adaptive teacher?
A. Not always. We want the experience to be positive and not frustrating for any client or student, and the impairments of some clients are such as to be best served by a trained therapist; however, as the therapeutic goals are met, some clients may add specific instrumental learning to their experience. The therapist can help determine if and when the client is ready for specific instrumental instruction from adaptive teachers.
Q. How do I choose between group and private therapy?
A. Meet with the therapists whose group you are considering for a private session to evaluate the fit.
We understand that in most cases, families are extremely desirous of social opportunities for their children with special needs; however certain regulatory abilities are necessary in order for a group to be a feasible way to meet this need. Since our therapy groups are designed by age and differing levels of functionality, an assessment is first required in order to determine the best group or private therapy environment.