"Where learning is FUN!..."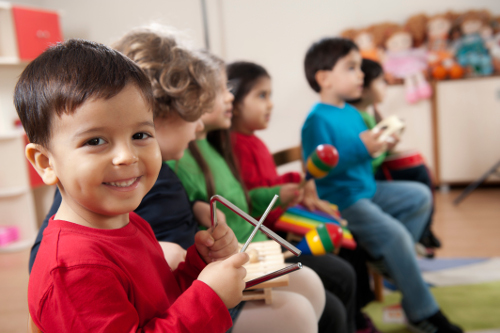 Bright eyed 3-year-olds stare expectantly as a big circle is drawn on the whiteboard in front of them. With a burst of energy, their teacher, Janice Morris, adds a squiggly line and two dots. "This is a smiley face", she exclaims. Janice Morris, founder and director of The Music Place, has developed an innovative teaching method that enables children as young as 2 to begin music theory while having fun. Blue eyes twinkling, "Miss Janice", as the children know her, dips her finger into pretend paint, makes a comical squeaking sound, and the "smiley face" suddenly becomes a "dirty face" and then a quarter note.
Charmed by her antics, the children giggle with delight. Mrs. Morris explains she is going to add a stem to the dirty face and it will become a quarter note. Now everything comes together as she asks, "How many counts does a quarter note get?"
"One!" the children all shout in unison. "Where Learning is Fun!" is the motto here.
Contagious enjoyment since 1984...
The Music Place philosophy flows from Morris' own contagious enjoyment of teaching music. Beginning in 1984 with 40 students, The Music Place has served over 20,000 students in 15 - 20 Bay Area locations. And Morris has had a lot of experience in the area of teaching young children, having done so for over 40 years. She first began teaching in other people's homes as well as her own, and then after having four children of her own, she looked to train other teachers to give her more time with her kids. Although that did not happen exactly like she thought, the rest is history. As Mike added technology and new teachers were trained, the student population grew from 40 students to 400 students in just three years, between 1984 and 1987. The Music Place now consistently serves about 500 families at any given time.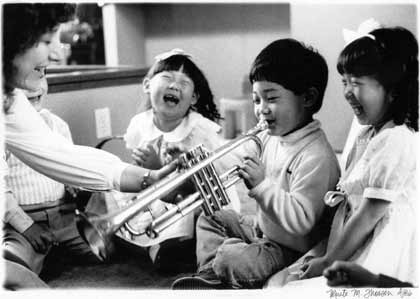 Morris' family moved from the East Coast to Silicon Valley in 1956. The daughter of musical parents, she remembers gathering around the family piano to sing and learn. This informal beginning encouraged a love of music that eventually led her to undergraduate and graduate studies with honors at San Jose State and the University of Colorado. After several years teaching at Northern California Bible College, and having children of her own, she changed directions to focus more on teaching children.
During her studies Mrs. Morris noted, "Far too many children become unnecessarily discouraged with music." She observed that the traditional teaching method often overlooked the auditory and kinesthetic learning needs of most young children. Mrs. Morris' solution is simple. During an informal, (and adventurous) 45-minute session with children and their parents, trained music education specialists assess each child's particular learning skills and musical aptitudes. Then, coupling their expertise with insight from parents, specialists help match the right instructor and learning materials to the child's specific needs. With the numerous locations and a staff of more than 35 teachers, there's a lot to choose from. (Learn more about assessments.)
Even experienced instructors receive training...
All instructors are hand-picked, and they all go through a rigorous training program to ensure each teacher's familiarity with Mrs. Morris' approach and curriculum. She maintains close contact with teachers and staff so they can continue to work together as a team to encourage each child's success.
In addition to a refreshing variety of music learning and performance classes, The Music Place encourages participation in both formal and informal recitals at least twice a year..
Mrs. Morris believes that early exposure to music is essential, but private lessons are not always the best alternative. Many kids between 1 and 7 years old participate in a fun array of group classes called EMA, or Early Music Awareness™. These classes, which are more economical than private lessons, allow children to experience a full range of music and instruments in a hands-on, relaxed atmosphere.
"... the funnest place in the whole world!"
And Mrs. Morris' enthusiasm can't be ignored when she speaks about her students. She shares an experience with a shy 6-year-old girl attending her first EMA class. "After the class, Amanda approached me, tugged on my sweater and whispered, 'Mrs. Janice, this is the funnest place in the whole world!' "That's what The Music Place is all about," concludes Mrs. Morris.
About the directors...
Mike and Janice Morris, founding directors, still oversee the big picture systems of this family-owned business while their kids help lead the day to day operations. "Our Christian beliefs influence the values and ethics upon which we base our business", comments Mrs. Morris, "and we are happy to offer elective workshops to inspire students who want to develop skills in worship leading, dance and music in a Judeo-Christian environment."
--article appeared in Bay Area Parent magazine, written by Patricia Bigliardi